By Tim Gleichner
About Pamela Samuels Young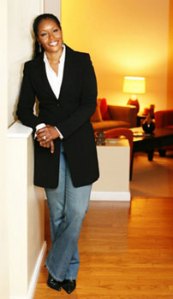 Corporate attorney Pamela Samuels Young has always abided by the philosophy that you create the change you want to see. Fed up with never seeing women or people of color depicted as savvy, hot shot attorneys in the legal thrillers she read, Pamela decided to create her own characters. Despite the demands of a busy legal career, Pamela accomplished her ambitious goal by rising at four in the morning to write before work, dedicating her weekends to writing and even spending her vacation time glued to her laptop for ten or more hours a day.
The Essence magazine bestselling author now has four fast-paced legal thrillers to show for her efforts: Every Reasonable Doubt (BET Books, February 2006), In Firm Pursuit (Harlequin, January 2007), Murder on the Down Low (Goldman House Publishing, September 2008) and Buying Time (Goldman House Publishing, November 2009). New York Times bestselling author Sheldon Siegel described Buying Time, Pamela's first stand-alone novel, as a "deftly plotted thriller that combines the best of Lisa Scottoline and Robert Crais."
Pamela has achieved a successful writing career while working as Managing Counsel for Labor and Employment Law for a large corporation in Southern California. Prior to that, she served as Employment Law Counsel for Raytheon Company and spent several years with the law firm of O'Melveny & Myers, LLP in Los Angeles. A former journalist, Pamela began her broadcasting career as a production assistant at WXYZ-TV in Detroit, where she was quickly promoted to news writer. To escape the chilly Detroit winters, she returned home to Los Angeles and worked at KCBS-TV as a news writer and associate producer.
Pamela has a bachelor's degree in journalism from USC, a master's degree in broadcasting from Northwestern University's Medill School of Journalism and received her law degree from UC Berkeley's Boalt Hall School of Law. She currently serves on the Board of Directors of the Southern California Chapter of Mystery Writers of America and is the Fiction Expert for BizyMoms.com.
Pamela is a frequent speaker on the topics of discrimination law, diversity, writing and pursuing your passion. She is married and lives in the Los Angeles area. To contact Pamela or to read an excerpt of her books, visit www.pamelasamuelsyoung.com.
My Review
I have to admit that this is the first legal thriller that I have read.  I tend to stick to mostly non-fiction, although my wife really pushed me to expand my reading horizons.  And, I am also a big fan of all the legal shows on tv so I thought that I would give this book a shot.  I am glad I did – not only was it mentally inticing, it read as if I was watching one of the shows I love so much only better.
This book is about Waverly Sloan – an attorney who has hit the lowest of the low and has actually been disbarred.  Everyone in his life seems to want something from him and now that he doesn't have the financial means to provide like he has in the past he isn't sure what he is going to do.  He is turned on to a quick money maker from an acquaintance of his and it seems like it might be the answer to his money woes.  But at what cost?
This book was a true page turner leaving me wanting more.  I would HIGHLY recommend it!
About Buying Time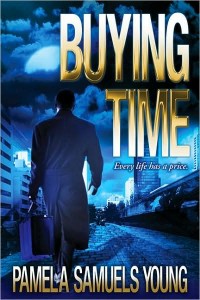 Buying Time is a scandalous tale of blackmail, murder and betrayal, evoking John Grisham with a dash of Terry McMillan.
Waverly Sloan is a down-on-his-luck lawyer. But just when he's about to hit rock bottom, he stumbles upon a business with the potential to solve all of his problems.
In Waverly's new line of work, he comes to the aid of people in desperate need of cash. But there's a catch. His clients must be terminally ill and willing to sign over rights to their life insurance policies before they can collect a dime. Waverly then finds investors eager to advance them thousands of dollars—including a hefty broker's fee for himself—in exchange for a significant return on their investment once the clients take their last breath.
The stakes get higher when Waverly brokers the policy of the cancer-stricken wife of Lawrence Erickson, a high-powered lawyer who's bucking to become the next U.S. Attorney General. When Waverly's clients start dying sooner than they should, both Waverly and Erickson—who has some skeletons of his own to hide—are unwittingly drawn into a perilous web of greed, blackmail and murder.
Soon, a determined federal prosecutor is hot on Waverly's trail. But when the prosecutor's own life begins to unravel, she finds herself on the run—with Waverly at her side.