About Renee Hand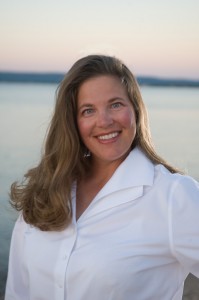 Renee Hand writes because it is a passion in her heart. She is a homeschool parent and likes to create books that educate and inspire the children of today. She was born in Michigan and still lives there with her husband and two children. She has a degree in Zoology with a minor in Chemistry. Renee is the author of the amazing mystery series known as the Crypto-Capers Series that encourages children to read by incorporating several topics of interest. The reader participates into the story by solving cryptograms and puzzles to solve the case. She is also the author of the Joe-Joe Nut and Biscuit Bill Series, which focuses on animal detectives. This series is a great way to teach children about animals in a fun and interesting way that captures the reader's attention and yet fills them with knowledge they will be learning about in school. All books are great to use in a classroom setting to supplement various topics or to just enjoy. Renee is an award-winning author, receiving awards such as a Best Book Award, a National Literary Award and a Preferred Choice award for her children's series and adult books. She has just recently won a Seal of Excellence award in Storytelling for her Joe-Joe Nut and Biscuit Bill Series. She has been writing for over twenty-five years and has nine books published. When she is not spending time with her family or participating in author events, she is coaching and playing tennis, as well as doing research for her books and many other things that keep her busy. Not quite sure what a cryptogram is and want to learn more? Visit the author's website at www.reneeahand.com to learn about cryptograms and how to solve the ones that are in the books.
Guest Post
Today I am going to share with your readers a little bit about my books. They are all unique and educational in their own way and are award-winning.
I have two amazing, interactive and educational mystery series. The first is my Crypto-Caper Series, which is for readers in 4th grade and up into middle school. In these books, the reader needs to solve the cases by solving cryptograms and puzzles. The reader is involved in each story and is a part of the Crypto-Caper team. The books are either history or science based, and though the stories are fiction, I do incorporate some fact. Book 1 of the series, The Case of the Missing Sock, is the easiest because the reader is given everything they need to solve the case. They will find the cipher key to use throughout the book as well as the various cryptograms and word scrambles along with the characters. Book 1 also has an answer key in the back of the book to ensure that the reader understands what they need to do, and it builds a good foundation for them. As the series progresses, I am going to build on that knowledge. Each book in the series thereafter is going to be more challenging for the reader. The reading level stays the same, but the cryptograms become a little more challenging. In book 2, The Case of Red Rock Canyon, instead of finding a cipher to key to help the reader solve the puzzles. The reader creates their own by using clues they find in the story as they read. All examples of cryptograms used and what to expect throughout the series is on my website where I explain everything thoroughly. www.reneeahand.com Children have lots of fun with this interactive series.
The Joe-Joe Nut and Biscuit Bill Adventure Series is about animal detectives, which is for readers in 2nd and 3rd grade and up. In this series children will learn about animal tracks, as well as rocks and minerals. My new release is book 2 in the Joe-Joe Nut Series called Mineral Mischief. I add in quite a bit of interesting and factual information that will educate and entertain the reader. It also can be used to supplement the topic of rocks and minerals in a classroom. Each book has tons of information about the topic and about the suspects. All books are written in a fun and educational way. In Mineral Mischief, each suspect collects a specific rock or mineral. As the detectives question each suspect the reader will learn about each suspect's collection. The suspect will also reveal some unique information about a specific rock or mineral in their collection. At the end of the book I've included the rock cycle, terminology, a 'Did You Know' section, as well as various experiments that the reader can try out. This book can also be used to satisfy some of the National Standards Requirements for Science.
About Mineral Mischief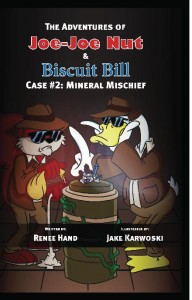 In the midst of having her friends visit her rock collection, Maple Moo's rare mineral goes missing from underneath her large cow nose. She instantly turns to Joe-Joe Nut and Biscuit Bill, the most famous detectives in Acorn Valley, to find it. But they didn't know the task was going to be an impossible one. The suspects were hard to figure out. Was it Candy Cardinal, who committed the crime? She collects various gemstones to make jewelry. Brutus and Betty Blue Beaver also collect minerals and have a fancy quartz collection. Liam the Llama looks suspicious with his igneous rocks and exploding volcano, or was it Huckleberry Moose with his sedimentary rock collection? Joe-Joe and Biscuit find themselves at a loss until some bullies roar into town.