About Barbara Conelli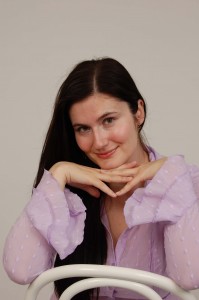 Barbara Conelli is an internationally published author and Chiquenist on the mission to bring Fantastic Fearless Feminine Fun into women's lives. In her charming, delightful and humorous Chique Books filled with Italian passion, Barb invites women to explore Italy from the comfort of their home with elegance, grace and style, encouraging them to live their own Dolce Vita no matter where they are in the world.
Barb learned to read and write at the age of four, and a year later, she wrote her first bestselling book that became a big hit in local kindergartens. She turned into an overnight success that lasted for twelve exciting hours. Since then, she has never separated from her writing endeavors. Barb writes even in her sleep and she can often be seen sitting on her bed at three a.m. with a flashlight frantically processing her somnambulant ideas. A born nomad and adventurer, she's been there, she's done it, and she's not afraid to write about it.
An entertaining storyteller, Barb has a unique ability to capture the magical atmosphere of the places she writes about. Through the pages of her books, Barb takes your hand and guides you through the irresistible beauty, captivating secrets, unrepeatable spell and fugitive moments of Italy. She makes them come alive easily and spontaneously, and her writing is like a magic carpet that carries you to Italy and back in the blink of an eye. She introduces you to fascinating women who have created the face of Italy, lifts the shroud of their mysteries, and reveals adorable places off the beaten track where the authentic Italian heart hasn't stopped beating.
As a naturally curious person who loves traveling, meeting new people and discovering their life stories, Barbara founded Chique Show, an entertaining radio show for women and about women. On Chique Show, Barbara shares her Dolce Vita adventures and interviews inspiring women authors and experts who show listeners how to live their sweet life with gusto.
Barb lives between New York and Milan, and as a real globetrotter, she's always on the move, accompanied by her adorable and very spoiled beagle. To her, writing is like breathing, and she's currently working on her new book.
Her latest book is Chique Secrets of Dolce Vita, a narrative travel nonfiction book full of charming, poetic, delightful and humorous travel and life stories about extraordinary Milanese women, men who have succumbed to their temptation and the art of living your own dolce vita no matter where in the world you are.
You can visit her website at www.barbaraconelli.com or connect with her at Twitter at www.twitter.com/barbaraconelli or Facebook at http://www.facebook.com/barbaraconelli.
The Interview
Could you please tell us a little about your book?
Chique Secrets of Dolce Vita, subtitled "Put on your Borsalino and swing those hips, baby", contains charming, poetic, delightful and humorous travel and life stories about extraordinary Milanese women, men who have
succumbed to their temptation, and the art of living your own dolce vita no matter where in the world you are. It's an invitation to join me, travel with me, experience Italian adventures and meet the fascinating women that have created the face of Italy. To see places off the beaten track where the authentic Italian heart is still beating. It's my passion project, and a way to reconnect with the city where my Grandma Lily was born, my home-away-from home, and one of my favorite places in the world.
Did something specific happen to prompt you to write this book?
Yes, a full-blown panic attack! While enjoying a peaceful, beautiful walk in the forest with my beagle Brinkley, I suddenly stopped right in the middle of the path, I couldn't breathe, and I felt I was going to either scream or cry. At that moment I knew I had been putting off the desire to write this book for too long, and if I didn't commit to my dream, I would die – creatively and spiritually. I went home, started to write, and the rest is history!
Who or what is the inspiration behind this book?
As I said, the book takes place in Milan and its surroundings, and the wonderful Milanese women have been my biggest inspiration. Their stories are fascinating, captivating and incredibly wise. I grew up surrounded by
Italian women, their food, their laughter and their Italian joy of life, and this book is a way to bring the real Italian charm closer to women all around the world.
Who is your biggest supporter?
My mum who has been living my dream as if it was her own. My Dad, who passed away, but I can still feel the special connection we shared.

And "Chique Man", as I call my fiancé in my articles and blog posts, whose writing skills are limited to e-mails and technical reports, and who secretly admires my ability to write.
Your biggest critic?
My mum. She is my first reader, and I appreciate her input. But she's so tough. She doesn't understand that we, artists, have fragile souls and do not respond well to criticism. I value her advice, but I wish she was at least a
little bit less straightforward.
What cause are you most passionate about and why?
I'm passionate about many causes. I sponsor three little girls in India, my beloved "adopted daughter". I also sponsor a woman survivor of war through Women for Women International. I fund Kiva micro-loans and I'm a big supporter of fair trade. I believe in giving back, and I believe the best way to help people in need is to show them ways to help themselves. I also believe in the power of women's education.
In the last year have you learned or improved on any skills?
Absolutely! I'm an avid linguist, I speak eight languages and I keep learning new ones. I have recently taken up Chinese, Arabic, Greek and Russian. As a globetrotter, I know how important it is to speak languages – it helps
you get closer to local people and enjoy your adventures much more. I have also started doing yoga, and I feel more centered and grounded, which is so important for a writer! This summer I'm planning to finally buy a piano and learn to play it. It's been my dream for a long time. And hopefully, very soon I'll be able to buy and train my own Friesian horse, another dream come true.
Do you have any rituals you follow when finishing a piece of work?
When I'm about to finish a book, I become so submerged in the writing process that I often forget to eat, drink, sleep, exercise, wash my hair and have fun. Although I love being in the flow, I burn out easily. Knowing this, I make sure my writing days involve lots of self-nurturing rituals: Long walks with Mr. Brinkley, soothing massages, hot tea, yoga and meditation every morning, long bubble baths, and lots of dark chocolate with almonds!
Who has influenced you throughout your career as a writer?
My grandfather was a regional writer, and we are a family of bookworms. I learned to read and write at the age of four, and I have never stopped. I am very grateful to my family because they have always encouraged my writing
endeavors and my dream to become a bestselling author. I can't say I've been influenced just by one person: Everyone in my family is a storyteller at heart, I grew up with stories, surrounded by books. I am who I am thanks to my family history.
What is the most important thing in your life right now?
Writing, writing, writing. It's my biggest passion, and I have learned to make sure it's always on my priority list. When you're a writer, it's easy to get distracted by everyday obligations and little emergencies. Writing comes
first. I always tell my family: "Don't disturb me unless it's an emergency. And if it's an emergency, first call 911, and then me – if absolutely necessary." The only family member who does get my attention when I'm in the middle of writing, is my beagle. If you've ever seen beagle's eyes, you know what I'm talking about. Absolutely irresistible.
What are you currently working on?
I'm working on the second Chique Book in my new Italian series, it's going to be published in October 2011. I'm also working on my first novel, which is a long-time project I'm very excited about and committed to.
Do you have any advice for writers or readers?
I think if you're a writer, you should write. The best cure to writer's block is writing. Even if you're not working on a book right now, journal, write letters to your friends (and I mean real letters, e-mails don't count), write
blog posts and articles. And also read. A writer must read for education, inspiration, vocabulary and fun. The biggest readers are usually the best writers, and vice versa.
Is there an author that inspired you to write?
Not in the past, but today my favorite authors are Simona Sparaco and Marian Keyes. I admire their zestful writing style. I just wish Simona Sparaco would be more prolific, but I understand that as an Italian, she's got
much more fun stuff to do.
What are some of your long term goals?
I have currently six Chique Books outlined, and my goal is to write and publish two books a year. Also, I would love to finish my novel in 2012. Personally, I just want to continue being happy, creative and inspired, and
spread Italian joy through the pages of my books.
What do you feel has been your greatest achievement as an author?
Every achievement is big. When you're a writer, every new page, chapter, book and step along your writer's and publishing journey toward your dream is an accomplishment worth celebrating. Being an Amazon bestseller has
been magical, but I absolutely do not stop there.

What do you feel is your biggest strength?
My determination and willingness to commit and work hard. Also my courage and resourcefulness when it comes to obstacles and bumps in the road. I think I'm pretty fearless.
Biggest weakness?
Had you asked me a few months ago, I would have said impatience. Today, I'm much more balanced because I understand it's about the journey, not about the destination. However, I don't really believe in weaknesses. I
believe that we're perfect just the way we are, and each of us has a unique set of qualities suitable for the journey we choose to embark on.
What do you feel sets this book apart from others in the same genre?
It's the unique combination of personal experience and emotions that canbe felt on every page. Also, it's the stories – I don't write about facts that everyone knows and that you can find on the internet or in guidebooks. I
describe very personal and intimate encounters with the city I've always been in love with, and I also share life lessons I've learned during my adventures. I believe every author should write about what she knows best, and that's exactly what I do. I want to provide my readers with a very authentic experience. I want them to hear the same sounds, smell the same flavors and see the same images that I did. I literally want them to feel they are there, and not just reading about it.
You know the scenario – you're stuck on an island. What book would you bring with you and why?
Under the Duvet by Marian Keyes. The book is hilarious, and I love her edgy, ironic style. I must say I even prefer her collections of journalism to her novels, although they are fantastic as well.
If you could go back and change one day, what would it be?
I wouldn't change anything at all. I believe that every experience, no matter how painful or hard it may be at the moment, is a valuable source of wisdom and growth. Every single second of our life creates the person we're meant
to be, helps us discover who we really are and understand ourselves better. I wouldn't change anything, and I never look back. I live in the present moment expecting the best future.
Are you a different person now than you were 5 years ago? In what way/s?
I know myself better and I know exactly what I want to be in this lifetime. Five years ago, I was still searching. Today I know. Many of the choices I've made have not been easy, but I believe that if you want to live your dream, you must get your priorities straight. Today I feel more balanced, grounded and focused, and I'm very grateful for that.
What is the most important lesson you have learned from life so far?
Never ever give up and never judge anything and anyone. When something "doesn't work out" or when we "fail", it only means there's something much better waiting for us just around the corner. Always go with the flow, focus on your dreams and passions, and believe in yourself.
Is there anything you regret doing/not doing?
Not at all. As I said, I never look back. I love my past, and I understand why certain things had to happen to help me be where I am today. I'm at peace, and I simply don't do regrets.
What is your favorite past-time?
Oh, there are so many things I enjoy! Golf – I admit I will never ever really learn to play it properly, but I love it. Horseback riding – the best way to see your worries through different eyes. Yoga and meditation – the grounding
tools I swear by. Travel – I could spend my life traveling and exploring, I've been a nomad since childhood. Books – need I say more? Dance – belly dancing, salsa, ballroom dancing, flirt dance, pole dance, you name it! Cooking – I make cannelloni to die for!
Is there anything else you would like to share with us?
If life gives you twists and turns, Chique Yourself Up in Italy! (And remember, laugh like an Italian, love like and Italian, eat like an Italian, and eventually you become one.)
About Chique Secrets of Dolce Vita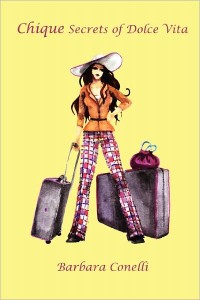 To live a dolce vita means living with an open heart and soul, indulging in life with all your senses. It means having the eyes to see real beauty, having the nose to smell intoxicating scents, having the ears to hear dreamy sounds, having the mouth to taste delicate flavors, having the body to perceive soft sensations. It means being aware of yourself, of your emotions and desires. It means finding happiness in ordinary yet unique things.
There is a place where you can learn all this. A place scented with saffron where you can find a natural paradise among houses with flaked paint, where famous artists play on the streets, where men have not forgotten how to pay compliments, and where women seductively swing their hips. It is a place where people take the art of dolce vita to perfection. Where you can enjoy little pleasures, live every day as if it was your first and last, breath in the air of true freedom and be whatever and whoever you want to be. In this place, where the real Italian heart is still beating, where people are delightfully vain as well as childishly honest, and where passion is more than just a word, you realize that living the sweet life is not as hard as it may seem.
Let's wander together for a while along Milanese boulevards and the narrow winding streets of the surrounding villages. Let's go on a journey that will take us to the atelier of untameable Carla, to the sweet heaven of irresistible Antonietta, among the peculiar characters of bohemian Brera, to the silk workshop of Maria Elena, to see Fernanda's disobedient genius, to the famous La Scala with Francesco and Giovanna, and to the cradle of Milanese high fashion by madam Mila. Then to the hills that once belonged to pirates and today are owned by lovers. On to misty paths haunted by ghosts and then to secret corners that witnessed passionate stories of love, desire, and heartbreak.
Let's meet the delicious Milanese women, amazing and unique, whose lives have been irreversibly changed by Milan and who have also changed the face and character of Milan forever. Women whose fate has become entwined with the city's present and past, with its everyday life, and its transformation throughout history. We can also meet the men who have succumbed to the temptation of sultry hips and mysterious voices in the dark. Who, insane from luscious lips and inspired by irresistible legs, have marked the world with their presence and made it a deliciously bittersweet place to be.
Let's simply uncover all the sweet, passionate, and dark Milanese secrets that have up to now remained unrevealed. The chique secrets that will teach you to live your own dolce vita no matter where in the world you are. Because la vita e bella, life is beautiful, and the most amazing wonders of this world often hide in the simplest things.