About Rie Sheridan Rose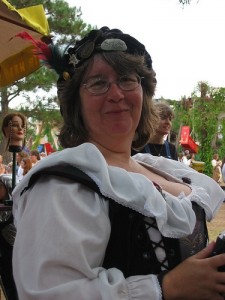 Rie Sheridan Rose has been writing professionally for the last ten years or so — though she has just added the "Rose" on the end. After putting up with her for the last eight years, she figured her husband deserved the recognition. Prior to last year, her work appeared under "Rie Sheridan."
In that decade, she has published 4 novels, 1 short story collection, 2 chapbooks of collected stories, and five poetry collections as well as contributing to several anthologies.
Her stories have also been published in The Eternal Night, ShadowKeep and Verge ezines, as well as the EOTU and Planet Relish websites.
Her poetry appeared in the print magazines Mythic Circle, Dreams of Decadence, and Abandoned Towers as well as the Electric Wine and Tapestry ezines.
The Half-Price Books 1999 "Say Good-Night to Illiteracy" Anthology contained her children's story "Bedtime for Benny".
Both her short story anthology RieVisions and poetry collection Dancing on the Edge were finalists in the 2003 EPPIE awards. Poetry collection Straying from the Path and Young Adult novel The Right Hand of Velachaz were finalists in the 2004 EPPIE awards.
Her most popular stories to date are the Adventures of Bruce and Roxanne, humorous horror shorts several of which have been collected into two print chapbooks by Yard Dog Press.
She has also written the lyrics to several songs for Marc Gunn. Their "Don't Go Drinking With Hobbits" CD is due out in August.
Her latest book is The Luckless Prince, published by Zumaya Otherworlds.
Rie lives in Texas with her husband Newell and several cats, all spoiled rotten.
You can visit her website at www.riewriter.com.
Connect with Rie at Facebook at http://www.facebook.com/riesheridanrose.
The Interview
Could you please tell us a little about your book?
My book is a quest fantasy about a restless prince and his squire who go on a routine trade mission that winds up being the adventure of their lives. There are sword fights, elves, shapeshifting, hidden identities, lost treasures, and many more tantalizing tidbits in store for the reader.
Did something specific happen to prompt you to write this book?
Well, that depends on how you look at it. This book is a complete re-envisioning of my first novel that was published in 2001. If we are talking about the first version, I no longer remember…I took about 30 years to write that version. The current version came about because I just knew I could do better. I'd learned so much in the intervening timeframe, and I didn't feel that the story had gotten its best presentation. Now, it has.
Who or what is the inspiration behind this book?
Just a general love of fantasy. None of the characters in this one corrolate to any real people. I think this is just the adventure I'd like to have, and since I can't, I'll dream about it.
Who is your biggest supporter?
My husband. He is my enabler…lol. And my parents, who have always encouraged me.
Your biggest critic?
Also my husband. He really knows how to put his finger on a problem, which has let to trauma at times…but between him and my writing partner, I'm kept on the straight and narrow, and my plots make more sense.
What cause are you most passionate about and why?
I think the cause I am most passionate about is gay marriage. I have many gay and lesbian friends, and I hate to see them unable to share the same rights — and responsibilities — my husband and I do just because of whom they choose to love. I don't think it is any business of the government to regulate the matter. (But I know that isn't a popular opinion with everyone.)
In the last year have you learned or improved on any skills?
I think I've learned a lot about what to look for when self-editing, and improved my description somewhat. Especially describing actions. This has always been a weak spot for me, but I think I am getting better.
Do you have any rituals you follow when finishing a piece of work?
Not really, though I am likely to take myself out for a steak when I feel it is finished.
Who has influenced you throughout your career as a writer?
Throughout my career…? Hmmm. Andre Norton was a big influence for me. Tolkien, of course — when I started my book originally, my elves were of the shoemaker variety…when I read The Lord of the Rings, they got taller. C.J. Cherryh's Rusalka trilogy taught me a lot about description, as did Anne Rice's early vampire novels. Lynn Flewelling taught me a lot about emotion and relationships. I am still finding new influences daily. Seanan McGuire is my current find. I am learning a lot about weaving of exposition into the plot from her.
What is the most important thing in your life right now?
My marriage. I love my husband dearly, and I want to provide a nice home for him…which is hard for a pack rat.
What are you currently working on?
Most recently, I've been going in a new direction and writing lyrics for a friend of mine, Marc Gunn. We've got an album of Hobbit Drinking Songs coming out later this summer.
Do you have any advice for writers or readers?
I'm not going to say "write daily", because that doesn't work for everyone. And I'm not going to say "write what you know", because a speculative fiction writer — by definition — "speculates" on events. I think I would say "write from your heart", because you have to feel engaged with what you are writing. If you don't, the readers will be able to sense your lack of enthusiasm.

For readers, I would say expand your comfort zone. Choice something in a genre you've never read before now and then. You might find a new passion. Explore the world vicariously. Don't always read the same type of books. Try a foreign writer now and then. Books give you wings — unfurl them.
Is there an author that inspired you to write?
I grew up surrounded by Ray Bradbury, Robert Heinlein, and Agatha Christie. I think that I wanted to be Ray Bradbury from a very young age. His short stories were some of my favorites. But I also grew up with Hans Christian Anderson, the Brothers Grimm and Andrew Lang, and it was easier to write fantasy and fairy tales for me.
What are some of your long term goals?
Long term, I have a couple of WIPs I really want to finish someday. One of them is a space opera that I have gotten to a conclusion three or four times now, but never been satisfied with, and the other is a fantasy about a blind gypsy mandolin player. I want to see those two projects finished even if I don't finish any of the other twelve things that are in progress…lol. I've got enough to do to last a lifetime. Even if I never start another project, which seems unlikely.
What do you feel has been your greatest achievement as an author?
The fact that I have actually finished several projects. The biggest hurdle a new writer faces is finishing something. I have proven that I can. That's a big step forward. Of those projects, I am most proud of this latest book, The Luckless Prince, and the Don't Go Drinking With Hobbits CD.
What do you feel is your biggest strength?
I think my dialogue is my biggest strength. I have a considerable theater background, and I feel pretty good about my ability to write natural dialogue.
Biggest weakness?
My biggest weakness is definitely procrastination. I am terrible about it. I hope to get more disciplined someday, but only time will tell.
What do you feel sets this book apart from others in the same genre?
What I hope will set this book apart is that the characters are people first and types second. While I can see the archetypes beneath the characters, I think they have enough individuality to make them interesting, and people you will want to know better.
You know the scenario – you're stuck on an island. What book would you bring with you and why?
Could I take my Kindle? No, probably if I could only have one book, it would be my anthology version of The Lord of the Rings which has all three volumes in one, because there is always something new to discover, no matter how many times you read the story, and by the time you get to the end of the third book, you will have forgotten some of the details of the first one and can start over.
If you could go back and change one day, what would it be?
I really can't think of a one, because every day together has brought me to where I am, and I really love that place.
Are you a different person now than you were 5 years ago? In what way/s?
I hope so. If you aren't growing a little each day, you are stagnating. I think I am a great deal more self-confident these days than I used to be. The convention panels and book-signings have made it easier for me to interact with people in general. I've always been shy, even with a theater background, and I am not as uncomfortable meeting new people any more.
What is the most important lesson you have learned from life so far?
Believe in yourself and never accept "It can't be done."
Is there anything you regret doing/not doing?
I regret not starting my professional career a lot earlier. I think I let early rejection slips cripple me for awhile. I should have believed in myself and kept trying when I was younger. I might be further along today.
What is your favorite past-time?
Besides reading and writing? Playing videogames with my husband. We don't always, or even often, play the same game at the same time, but we each are playing at our computers at the same time and sharing back and forth. That and photography.
Is there anything else you would like to share with us?
I love feedback. If you read anything of mine, don't be afraid to drop by www.riewriter.com and leave a comment, or drop me an email at riewriter@gmail.com. And I'm always looking for new Facebook friends and fans.
About The Luckless Prince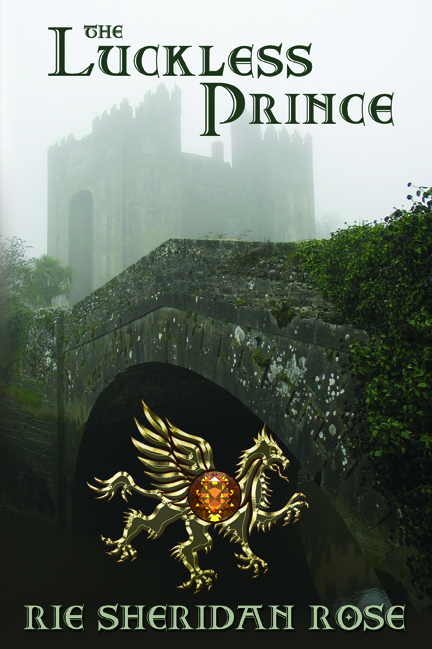 The Luckless Prince is an epic quest fantasy. Prince Roland and his squire, Stefan, journey downriver to negotiate a fur deal for his father. But the seemingly innocuous mission becomes a nightmare as the raft is attacked by a band of raiders. And their troubles are only beginning.
As Roland tries to return home and reassure his father of his safety, he finds himself taken prisoner by the mysterious elves of legend. And, in the end, only by forming an uneasy alliance can their common enemy be defeated.