About Greg Messel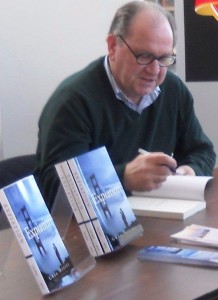 Greg Messel has spent much of his life in the Pacific Northwest living in Portland, Oregon and in the Seattle area since 2008.  He has been married to his wife, Carol, for 40 years.  Greg and Carol were high school sweethearts just like the couple in "Expiation."  He has lived in Washington, Oregon, California, Utah and Wyoming.  Greg grew up in the San Francisco Bay Area and graduated from high school there and also attended a year of junior college.  Greg went to Brigham Young University with Carol and then began a newspaper career in rough and tumble Wyoming town of Rock Springs.  Greg and Carol have three married children and nine grandchildren.
Greg has always loved writing.   He worked as the news editor and sports editors of the Daily Rocket-Miner newspaper.  He won a Wyoming Press Association award for his column.  He also submitted and had published articles in various sports magazines.  He left the newspaper business in 1981 and began a 27 year career with Pacific Power.  Greg retired in 2008 and moved to Seattle.
It was there that he returned to his first love of writing.   He has written two unpublished memoirs and published his first novel with Trafford in September 2009.   His first novel was called "Sunbreaks."   The second novel "Expiation" was published in the spring of 2010 with Trafford.  A third novel is in the works.
Currently, Greg and Carol live on the Puget Sound in Edmonds, Washington, just north of downtown Seattle. They have three adult children who are all married and have nine grandchildren.  He also enjoys running, he has been in several races and half marathons.
Visit his website at www.gregmessel.com.
Connect with him at Twitter at www.twitter.com/gregmessel and Facebook atwww.facebook.com/greg.messel.
The Interview
Could you please tell us a little about your book?
"Expiation" is the story of a long lost love. The main character Dan leaves his high school sweetheart behind in Seattle while he pursues his journalism career in San Francisco. His intentions are to go back to her but events keep them apart. Now 30 years later he returns to Seattle and is reunited with his long lost love, Katie. The question is can their relationship be reclaimed. The story spans the 1970s in San Francisco to 1999 in Seattle.
Did something specific happen to prompt you to write this book?
I have always wanted to write a story about San Francisco in the 1960s and 1970s. I grew up in the Bay Area and spent a lot of time in Berkeley during that period. It is a fascinating time with so much history occurring—the Vietnam War, the Patty Hearst kidnapping, the anti-war protests in Berkeley—just for starters.
Who or what is the inspiration behind this book?
There were several factors but I did marry my high school sweetheart. I thought of what would have happened if we had not stayed together. What if we reunited years later? Could the love we once felt be rekindled? I have talked to several people who have read "Expiation" who have told me that they wonder those same things about an old college or high school sweetheart or long lost love.
Who is your biggest supporter?
Probably my wife.
Your biggest critic?
It's hard to imagine anyone being more critical of what I do then me. I always hope it is good enough.
What cause are you most passionate about and why?
I have been asked—so do you write romance novels? I don't write romance novels but I write novels about relationships and the human condition of falling in love. I find that the process that we go through to find someone to love is endlessly fascinating. Even those who can't find romance and love, secretly wish they could.
In the last year have you learned or improved on any skills?
I feel like my writing gets better continually and I hope I am right about that. I have vastly improved my social networking skills this past year. I'm very active on Twitter, my blog and Facebook. I have really enjoyed interacting with my readers, potential readers and other authors.
Do you have any rituals you follow when finishing a piece of work?
When I'm writing I like to listen to music. It seems to help me escape into the world of my characters. My wife is amazed that I can sit down and start writing and it just pours out. It actually doesn't just pour out. I've been thinking of plots points and dialogue for months before I actually write.
Who has influenced you throughout your career as a writer?
I love Pat Conroy's books especially The Losing Season. My childhood was similar to his and I love how he taps into it in his novels. I also love every book that Michael Connelly writes. I find that my writing gets better when I read good authors while I'm writing.
What is the most important thing in your life right now?
In my personal life, I want to continue to write and become a viable author. I have more books I want to write and I want to establish myself with my readers.
What are you currently working on?
I have just finished my third novel "The Illusion of Certainty" which will be published in July. I am also working on an outline and concepts for a fourth novel. I find that I like to spend the summer developing concepts for my books. Then when the rainy, winter days come to Seattle, it is a great time to sit inside and write.
Do you have any advice for writers or readers?
I think you have to be yourself and not worry about what others do. We can always get better but writing is producing a work of art. It is what it is and I hope people like it. I have to write for myself and not try to please everyone else. I just said how much I like and admire Michael Connelly. I saw him at the LA Book Festival when I had a book signing there. Connelly was such a cool guy and a real rock start. But I can't write the detective novels like he can. That isn't who I am.
Is there an author that inspired you to write?
I have several authors I really like and I am always discovering new ones. For instance, I just finished the book "Water For Elephants" and loved it. However, my inspiration to write comes from within. I have always loved to write going back to my days as a reporter for my high school newspaper. It's want I do.
What are some of your long term goals?
I would like to continue writing books and increase the awareness of all of my books.
What do you feel has been your greatest achievement as an author?
I am still evolving. I feel my greatest achievement is my third book which about to be published. Maybe it's a natural thing to feel that your best work is your latest. I hope that's true. I am very proud of "Expiation" and I have really enjoyed people's reaction to it. I got a tweet from a woman in London who told me how much she liked it. That was wonderful to know that the reach was that far. It was a great moment for "Expiation" when I got a call last December to tell me that a literature book blog had included it is their top ten favorite books of 2010.
What do you feel is your biggest strength?
I like to use realistic locations for my books and I feel like I understand relationships from both the male and female perspectives.
Biggest weakness? I hope my dialogue is good. I work very hard on it and am never really satisfied that it is good enough.
What do you feel sets this book apart from others in the same genre?
I love the historical backdrop against which the characters in Expiation live. I think it makes the story unique and the romantic relationships are often seen from the male perspective.
You know the scenario – you're stuck on an island. What book would you bring with you and why?
There are many. I'm currently in love with my Kindle so I hope I could bring it and have a charger. The book "To Kill A Mockingbird" is hard to beat. It is a true work of art.
Are you a different person now than you were 5 years ago? In what way/s?
I'm a very different person. I have retired from my career in the newspaper business and corporate world. I feel like I'm evolving into a new person—one I've always wanted to be. I love being able to tell people that I'm an author.
What is the most important lesson you have learned from life so far?
It is important to be loyal and provide love to those who are important to you. I feel that way about my wife, my children and grandchildren and my closest friends. Loyalty and steadiness is very important. I was raised in a very unstable environment. That is now important for me to provide a stable, loving relationships.
Is there anything you regret doing/not doing?
I would really wonder about anyone who says they have no regrets. However, I do feel I've done the best I can. I have made mistakes but try to do better next time.
What is your favorite past-time?
Besides writing, I love to run, especially outside along the shores of the Puget Sound by my house.
About Expiation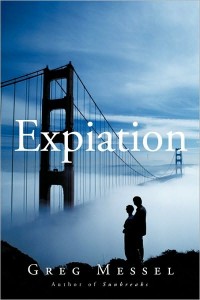 In 1968, Dan and Katie are one of the hottest couples at Ballard High School in Seattle. He is the hero football player, and she is the beautiful cheerleader. These high school sweethearts believe theirs is a love that will never die.
Life changes when Dan leaves Washington to start college at the University of California Berkeley and pursue his dream of working for a big time newspaper in the glamorous city of San Francisco. The quest for his dream occurs against the turbulent background of Berkeley and San Francisco in the 1970s as Dan and Katie go their separate ways.
Now, thirty years later, Dan is back in his hometown of Seattle attending his mother's funeral. He's never stopped thinking about Katie, his long-lost love. But the two former high school sweethearts reconnect in a most unexpected way as the rest of the world grows more fearful of Y2K and the dawn of the twenty-first century. They are hoping that their love, once lost, can now be reclaimed.