About Terri Giuliano Long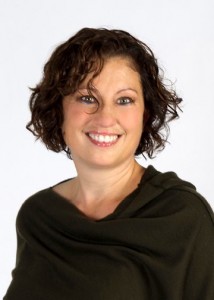 Terri Giuliano Long is the bestselling author of the award-winning novel In Leah's Wake. Books offer her a zest for life's highs and comfort in its lows. She's all-too-happy to share this love with others as a novelist and a writing teacher at Boston College.
Her life outside of books is devoted to her family. In her spare time, she enjoys walking, traveling to far-flung places, and meeting interesting people. True to her Italian-American heritage, she's an enthusiastic cook and she loves fine wine and good food. In an alternate reality, she could have been very happy as an international food writer.
Terri loves meeting and connecting with people who share her passions.
You can visit her website at www.tglong.com or connect with her on Twitter athttp://twitter.com/#!/tglong and Facebook at http://www.facebook.com/tglongwrites.
The Interview
Could you please tell us a little about your book?
In Leah's Wake tells the story of a family in collapse. Sixteen-year-old Leah, a star soccer player, has led a perfect life. When she meets a sexy older guy, attracted to his independence, she begins to spread her wings. Drinking, ignoring curfew, dabbling in drugs—all this feels like freedom to her. Her terrified parents, thinking they're losing their daughter, pull the reigns tighter. Unfortunately, they get it all wrong, pushing when they ought to be pulling, and communication breaks down. Soon, there's no turning back. Twelve-year-old Justine caught between the parents she loves, and the big sister she adores, finds herself in the fight of her life, trying desperately to pull her family together. Will this family survive? What happens when love just isn't enough?
Jodi Picoult fans often tell me the book reminds them of hers. I'm not sure she – or I – would agree, but we both write topical family stories. And it's a lovely compliment.
Brag facts: In Leah's Wake is the recipient of the CTRR Reviewer Recommend Award and is also the Book Bundlz 2011 Book Club Pick. In Leah's Wake is an Amazon Kindle bestseller.
Who or what is the inspiration behind this book?
Years ago, I wrote a series of feature articles about families with drug- and alcohol-addicted teens. The moms talked candidly about their children, their struggles. Their heartbreaking stories stayed with me.
My husband and I have four daughters. When I began writing In Leah's Wake, they were teens. Most families experience conflict during their children's teenage years. We're no different – though, thank goodness, ours were tame. We experienced nothing remotely like the problems and challenges theTylers face in the book.
As a parent, I knew how it felt to be scared, to be concerned for your children's future. Although I didn't think about it at the time, I now see this as a primary force driving this story. My work with families, my personal experiences and core beliefs – all these things played on my conscious and subconscious mind, and ultimately emerged as this book.
Who is your biggest supporter?
My husband, Dave, hands down. He stands by my side, encourages me, picks me up when I'm down, and supports me financially and emotionally. Somehow – I have no idea how – he manages to put up with me. Either I'm one amazing wife or he's a saint. I'm pretty sure it's the latter.
Your biggest critic?
That's me. I'm a perfectionist. This is good and bad – good because I push myself harder and expect more of myself than anyone else ever would. And bad because I push myself so hard and expect so much of myself.
What is the most important thing in your life right now?
My family – they are by far the most important thing in my life. Without them, nothing else matters.
What are you currently working on?
I'm currently working on a psychological thriller with a historical twist.
Nowhere to Run takes place in theWhite Mountains in northernNew Hampshire. A year after the brutal murder of her six-year-old daughter, Abby Minot, formerly an award-winning writer, accepts her first assignment—a profile of the philanthropic Chase family, kin of the popular New Hampshire senator and presidential hopeful, Matthias Chase.
In her initial research, Abby glimpses darkness under the Chase family's shiny veneer. Digging deeper, she uncovers a shocking web of lies and betrayal, dating back to the nineteenth century. Abby soon finds herself trapped—between an editor obsessed with uncovering the truth and the town and family who will stop at nothing to ensure it stays hidden.
I hope to complete the novel this fall.
Do you have any advice for writers or readers?
Believe in yourself. To deal with rejection, boot your computer, day after day, when it seems as if no one cares, the stars are misaligned – to indie publish in a world that still privileges the traditionally published – you have to believe in yourself.
Writing is a lonely profession. Most of the time, we're alone with our work. That loneliness can wear on you, and cause you to question yourself.  A community of caring writer friends, supporting and encouraging you, can make all the difference.
Hold onto your dreams. You can make them happen. Don't ever give up!
What do you feel has been your greatest achievement as an author?
Publishing In Leah's Wake. Self-publishing was hard and marketing even harder for me.
When I published In Leah's Wake, in October 2010, I had no clue as to what I was doing. Stupidly, too embarrassed to self-promote, I posted the book on Amazon. That was it. I mean really it – not even my parents knew I'd published the book!
I sold two copies in October, four in November, and thirty-four in December. For a month or so after the holidays, as people bought books for their new Kindles, I sold a few copies a day. By March, with sales lagging, and I realized that, if I didn't do something, my book would die. In early March, I began blogging and activated my Twitter account.
Once I got used to the idea that marketing didn't have to mean shameless self-promotion, 24/7, I began to enjoy it. Now, six months later, we've sold 30,000 books, with over 16,000 sales in October alone. Publishing this book forced me out of my comfort zone. I had to learn to respect and value my work and share it with other people. It was hard and it took time to figure it all out. But it's the best thing I've ever done for myself.
What do you feel is your biggest strength?
I'm persistent. I refuse to give up. If someone tells me I can't do something or that something I want to do can't be done, I'll throw my heart and soul into proving the naysayers wrong. Everyone told me to put In Leah's Wake away, start a new project, move on. Even after I began marketing the book, working long days, seeing no results, people constantly told me – gently – to quit. Why would I spend the time, the effort, the money on this losing prospect? Then sales started to pick up and now everyone wants to know how I did it. (Laughing) I did it the way I've always done it – by being me, a stubborn, pig-headed Italian.
Biggest weakness?
My persistence. My father always says, what makes you good makes you bad. I think he's right. Our best qualities, the things that drive us, can get us in trouble. Sometimes you have to let go. Sometimes it really is time to move on. I'm not good at making those determinations.
What is the most important lesson you have learned from life so far?
Appreciate others and be grateful. At the end of the day, the other people in our life are all we have. No one dies wishing she'd worked harder or made more money or sold more books. It's tough, because our culture values things over people and rewards monetary success. It's important to remember that, in truth, it's the other way around. People – our friends, our family, our community – are our most valuable and precious assets.
It's much easier to see this if we're grateful for what we have and what we've been given.
Is there anything you regret doing/not doing?
If anything, that I regret not publishing In Leah's Wake sooner. I was too scared or too stupid, maybe, to self-publish. I was afraid of the stigma, scared of what people would think. As a result, I wasted several years floundering, when I could have had my book out there, learned from my mistakes, and, by now, have written one or two more books.
Of course, we don't get do-overs, so it's best to be grateful for and appreciative of what we have and where we are. My publicist, Emlyn Chand, started her business this past March. If I'd published In Leah's Wake sooner, I would not have met and had the opportunity to work with her. I knew nothing whatsoever about social media. Without Em and Novel Publicity, my novel probably would have floundered. I can't imagine selling 30,000 books on my own. So I'm grateful to be where I am, even if it did take a while to get here.
What is your favorite pastime?
I'm a passionate traveller and foodie. My husband, Dave, and I have had the good fortunate of visiting many beautiful, interesting places. I love ethnic foods and I'm fairly gutsy when it comes to trying new dishes. InBeijing, a few years ago, we went to a tiny restaurant with two students. The restaurant was a local spot, as opposed to a tourist trap, the menu written in Chinese, so they ordered for us. When the steaming bowl arrived, I dipped my chopsticks into the stew – and pulled out a frog. The head had been removed, thank goodness, but the body was fully intact. I realize that a lot of people eat frog; this was actually green. I thought Dave would gag when I ate it. To his credit, he didn't.
I were not a fiction writer and teacher, I could see myself an international food writer.
Is there anything else you would like to share with us?
Publishing your first book is like starting a small business. You'll work longer hours for less money than you've ever dreamed possible. I've been joking lately about posting before and after photos. Before promoting my book, I actually looked like my author photo. Now . . . well, I won't even go there. The point is, over the last six months I've worked many 12 or 16-hour days. Some days I've wondered why I bothered, and – my husband will attest to this – I've had many days when I've threatened to quit writing.
Forever.
But then I'd receive a note that says your book has given me hope. Or, you speak for so many parents and teens. Thank you. Or if I were stranded, I'd want to bring your book with me. And my heart melts. In those moments, I know it's worthwhile. I've been blessed. Those wonderful, poignant, breathtaking moments far outweigh any down times. It's like children – parenting is tough, but your children bring you the greatest joy you can ever imagine. Hold you head up, reach higher, and hold onto the joy.
Don't ever give up.
About In Leah's Wake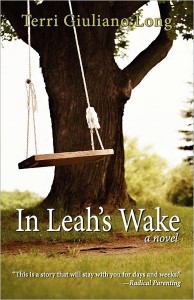 Protecting their children comes naturally for Zoe and Will Tyler—until their daughter Leah decides to actively destroy her own future.
Leah grew up in a privileged upper-middle class world. Her parents spared no expense for her happiness; she had all-but secured an Ivy League scholarship and a future as a star athlete. Then she met Todd.
Leah's parents watch helplessly as their daughter falls into a world of drugs, sex, and wild parties. While Will attempts to control his daughter's every move to prevent her from falling deeper into this dangerous new life, Zoe prefers to give Leah slack in the hope that she may learn from her mistakes. Their divided approach drives their daughter out of their home and a wedge into their marriage.
Twelve-year-old Justine observes Leah's rebellion from the shadows of their fragmented family. She desperately seeks her big sister's approval and will do whatever it takes to obtain it. Meanwhile she is left to question whether her parents love her and whether God even knows she exists.
What happens when love just isn't enough? Who will pay the consequences of Leah's vagrant lifestyle? Can this broken family survive the destruction left in Leah's wake?
This mesmerizing debut novel tells the tale of a contemporary American family caught in the throes of adolescent rebellion – a heartbreaking, funny, ultimately redemptive quest for love, independence, connection and grace.
In Leah's Wake is the 2011 BOOK BUNDLZ BOOK CLUB PICK  and recipient of the Coffee Time Reviewers Recommend (CTRR) Award. This award, as selected by reviewers, recognizes outstanding writing styles in all book types and genres.