About Rozsa Gaston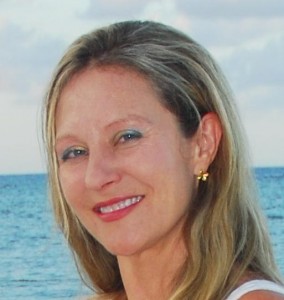 Rozsa Gaston is an author who writes serious books on playful matters. She is the author of Paris Adieu, Dogsitters, BudapestRomance, Lyric, Running from Love and the soon to be released Paris Adieu sequel, Black is Not a Color Unless Worn By a Blonde.  Rozsa studied European intellectual history at Yale, and then received her master's degree in international affairs from Columbia. In between Rozsa worked as a singer/pianist all over the world. She currently lives in Connecticut with her family.
You can visit Rozsa's website at www.parisadieu.com.
Website | Twitter | Facebook | Amazon Kindle Store | Smashwords | LinkedIn | Barnes & Noble | Official Tour Page 
The Interview
1. Could you please tell us a little about your book?
Paris Adieu is a coming of age tale of self-discovery and self-acceptance.
The book has two themes: 1) how to be comfortable in your own skin and 2) how to fake it till you make it.
Paris Adieu's heroine, Ava Fodor, is clueless about both at the start of the book. By the end, she's figured out a thing or two – thanks to the insights living in Paris has given her. Ava studies French women, French food, French attitude – while French men study her. By the final chapters of Paris Adieu, she's more or less transformed herself into the woman she wants to be. And if she hasn't entirely, at least she's learned how to fake it till she makes it.
But where to take her act? Back to New York, of course, where Ava grasps that her newfound sense of self will work for her in a way it never will if she stays in Paris. After all, she's not French. What she is, is fabulous.
2. Who or what is the inspiration behind this book?
This book is for every young woman everywhere who struggles with being less than perfect. The inspiration for Paris Adieu is the plump, frizzy-haired nineteen-year old girl I once was, who went to Paris as an au pair and discovered I didn't need to be anything other than who I was.
How did that happen? I realized the French way to be perfect: be perfectly yourself! I learned how to be comfortable in my own skin. It didn't happen overnight. It took about a decade. Paris Adieu is the story of that transformation, with some heavily fictionalized scenes tossed in.
3. What are you currently working on?
I'm halfway through the sequel to Paris Adieu. It's called Grey Dress, Black Belt and it's about what happens to Ava when she leaves Paris to return to New York and a job at the United Nations. There she befriends a dreamy Romanian, as well as two Serbian brothers who are avoiding the draft back home. The title is a play on Rebecca West's 1941 book on the Balkans, Black Lamb, Grey Falcon. Her new Balkan friends helps Ava discover insights into herself that drive her to take a closer look at her own father – a Hungarian poet and refugee she has never fully understood.
Outside of her job, reality hits Ava in the face when her father has a heart attack and she realizes time is running out for her to get to know the one man she needs to accept and appreciate before she can form a mature relationship with any other. When Ava's French friend Pierre comes to New York to visit her, Ava's relationship with him deepens then hits a wall. She can't move on until she forgives her father for not being there for her as a child, and accepts what he offers her now, in the twilight of his life.
Ava's year of highs and lows brings her to a new level of maturity. Is her attraction to Balkan mystique tied to her own longing to understand her Hungarian father? Will she be able to apply lessons she learns from time spent with her father to Pierre? And will Pierre still be there when she's finally learned them?
5. What do you feel has been your greatest achievement as an author?
To deliver a serious message playfully.
Paris Adieu covers some pretty important information about how a woman needs to seize control of what happens to her own body. And if what's supposed to happen isn't happening – get out there and make it happen, girl.
6. What do you feel sets this book apart from others in the same genre?
Paris Adieu's heroine, Ava, experiences an epiphany when she learns what it is to become a woman. For the very first time in her life she discovers how to be here now. Self-knowledge anchors her and her French boyfriend gifts her with one of life's great lessons — never be inauthentic to yourself.
Frankly, I've never come across another author who wrote about a woman's cerebral understanding of what happens to her when she — well — you'll have to read the book.
7. What is your favorite past-time?
Running! I love it. I enjoy the combination of viewing, smelling, and experiencing nature sensually while my body pushes itself to its limits. And those endorphin highs afterwards!!!
Tiny secret – I run slowly. How fast you run isn't the point. Running regularly is. It's transformative!
8. Is there anything else you would like to share with us?
Stay playful. It will keep you young, on fire and full of life. Read Paris Adieu and let me know if you found yourself in Ava's story. I hope her tale will help you along your path to self-discovery.
About Paris Adieu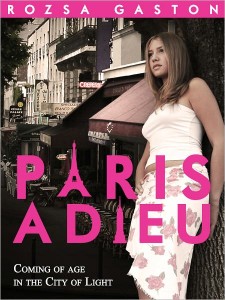 The first time Ava Fodor visits Paris as a nineteen-year old au pair, her French boyfriend introduces her to the concept of being comfortable in her own skin. If only she knew how…
One Ivy League degree later, she's back for an encounter with a Frenchman that awakens her to womanhood.  If only she could stay….
Five years later, Ava returns to Paris as a singer/pianist. She falls for Arnaud, whose frequent travel tortures her. While he's away, a surprising stranger helps Ava on her journey to self-discovery. Armed with the lessons Paris has taught her, she bidsadieu to Arnaud, Pierre and her very first love –  the City of Light.