ABOUT RICHARD ALAN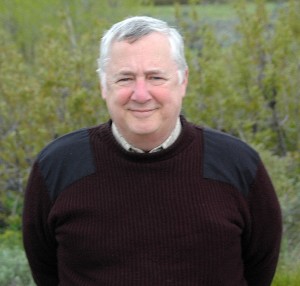 Richard Alan lives in the beautiful Pacific Northwest with his wife, Carolynn.  They are the proud parents of three wonderful adult sons.He is a Vietnam combat and 101st Airborne Division veteran.
After an education in mathematics, a 17 year career in manufacturing engineering and a 22 year career in software engineering, he has started a career as an author.  Richard writes novels about people trying to find their life-partner, soul-mate, the person they are meant to be with for life.  His first two books, Meant to Be and The Couples, are available on his websiteand most online retailers.
Richard's other interests range from mathematical analysis and photography to anything with an engine.  His current projects include writing the third (Finding Each Other) and fourth novels in the "Meant to Be" series, and discovering the properties of functions of p-adic numbers.  Having completed a potting bench for his lifepartner, Carolynn, he is busy driving her to watch salmon runs, visit National Parks, and anywhere that provides an opportunity to view her avian friends.
His latest books in the Meant to Be Series are Meant to Be and The Couples.
You can visit Richard Alan's website, VILLAGE DRUMMER FICTION atwww.villagedrummerfiction.com.
CONNECT WITH RICHARD:
Website | Blog | Twitter | Facebook | Amazon Kindle Store (Meant to Be) | CreateSpace (Meant to Be) | Amazon Kindle Store (The Couples) | CreateSpace (The Couples) 
The Interview
Could you please tell us a little about your book?
Meant to Be is the first in the "Meant to Be" series.  It is about people striving to find the person they are meant to spend their lives with.  Relationships between friends and couples are very important to the quality of life we live.  There are many wonderful characters whose lives intertwine while finding out who they are and who they want to be with.  The Couples, is the second book in the series.  It continues the theme of finding good relationships.  It follows several people as they move from being individuals to couples to families.  Some of the characters carry over from the first book; however, The Couples can be read as a standalone.
Did something specific happen to prompt you to write this book?
After an education in mathematics, a 17 year career in manufacturing engineering and a 22 year career in software engineering, I was asked to write an article for a blog about my experiences in Vietnam.  I submitted the article and it was published on the blog.  The owner of the blog, a published author, asked how long I had been writing.  I replied that I hadn't ever been an author and she suggested that I should.  That was about a year and three months ago.  Since then I have completed three books and just started a fourth. I write fiction about peoples struggles to find a life partner  Two of the books are published and you can find excerpts from them on the Village Drummer Fiction website www.villagedrummerfiction.com.
Who or what is the inspiration behind this book?
My wife and I have both been married to others previously.  We met in our fifties and realized that our relationship was how love was supposed to feel.  Tradition tells us that forty days before a male child is conceived, the name of his bride-to-be is announced from heaven.  There is a soul-mate for everyone; however not everyone finds their soul-mate.  We spend our lives searching for our true soul-mate.  My wife and I finally found each other, the person we each were meant to be with.
Who is your biggest supporter?
My wife, Carolynn. She believes in me and fully supports my new career as an author.
Your biggest critic? 
Again, that would be Carolynn.  She is my editor.  She critiques everything I write, looking for spelling errors, typos, tense conflicts, plot confusion, etc.  She doesn't change the story, but helps me tighten it up into an even better story.
What cause are you most passionate about and why? 
Keeping Carolynn happy because she is my soul-mate.
In the last year have you learned or improved on any skills?
I am a lifetime learner.  I think I would wither away and die if I was not constantly learning new things.  In addition to continually researching how to be a better writer, I am a mathematician.  I love working proofs and would like to discover the properties of p-adic numbers.  I am also using Rosetta Stone to learn Hebrew and German.  After those two languages, I think I will take on Navajo.  Two characters in my third book are learning Navajo, so I have already taught myself some of that language.
Do you have any rituals you follow when finishing a piece of work? 
I make sure I have a supply of aspirin before I start editing.
What is the most important thing in your life right now?
Being the best father to our three grown sons, their fiancées and girlfriend, and being the best partner to my wife.  I have spent my life trying to be an example of living an ethical life with high moral standards.  Passing these standards on is very important to me.
What are you currently working on?
Finding Each Other, Book 3 in the "Meant to Be" series is being edited after several rewrites.  While that process is progressing I am writing the 4th installment of the series.
Do you have any advice for writers or readers?
It is never too early to start creating buzz about your book.  Begin even before the book is finished.
What do you feel has been your greatest achievement as an author?
The joy I find in writing comes from the challenge of turning little black and white characters on a written page (or eReader!) into emotions and characters that people enjoy reading about.  I find that once I describe a character, the character begins telling me the story and I just write it down.    I've been told by readers that my characters feel like they are part of their families.  They want to know what is going to happen next.  It means a lot to me that I have touched people with my words.
ABOUT THE MEANT TO BE  SERIES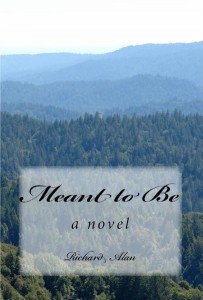 When four years old Meyer and five years old Joan met in the children's room of the local library, they had no idea the two of them would be spending a lifetime together.  Their friendship took off slowly due to their age difference.  Joan did not want to bother with someone who wasnot old enough to be entering kindergarten.They reconnected a few years later when Meyer's family moved from Iowa to the Seattle area, where Joan's family had moved the year before.
Joan and Meyer remain friends throughout their high school years until Meyer left for Viet Nam and Joan's family experienced a tragedy that impacted Joan's view of friends and family.
The interactions of three generations of friends and family helped them reconnect so that they couldcelebrate the good times and get through the difficult and tragic timesas loving partners.
"Interwoven into this engaging tale are the lives of various members of Meyer and Joan`s families, as well as some of their friends, that have likewise experienced this feeling of Bashert(meant to be) -something that none can exactly put their fingers on as to why it happens, but they just know that it must be some divine intervention influencing their fate." Norm Goldman, Bookpleasure.com review.
Meant to Be is a new novel about relationships, love, and life, from author, Richard Alan.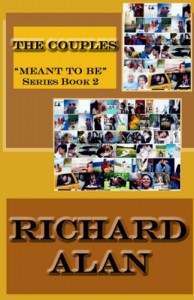 Acclaimed author of Meant to Be, Richard Alan, once again enchants us with characters that we really want to know.  You will laugh, cry, and love with them as you seek the answers to the relationship questions posed by this talented author.
Will a tough techy lady be able to find love with a man who is still mourning his deceased fiancée?
Will an intellectually snobbish genius learn that there is more to the truck mechanic than meets the eye?
Can a nerd and a party girl find happiness together?
Can a teenage boy musician get past his unrequited love to learn to love a ranch girl instead?
Will a troubled rape victim be able to have a normal relationship with a man?
The Couples is about people who may belong together and how the world around them helps them, or sometimes defeats them in their search for a life partner.  It follows the lives of couples,their friends, and their support systems,as they explore their relationships.
The Couples is Richard Alan's second novel in the "Meant to Be" series.  It continues to explore relationships, love, and life.