About Kellyann Zuzulo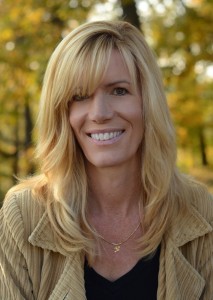 A former journalist, Kellyann's interest in Middle Eastern myth and legend stems from her stint as a Managing Editor of Publications for the Royal Embassy of Saudi Arabia in Washington, D.C.She is a published author of several genie romance novellas. One book,Angels & Genies, was included in a collection for which Charlaine Harris wrote the foreword. Kellyann lives in Pennsylvania with her husband, three children, and a jaunty terrier named Djin-Djin.
Her latest book is The Genie Ignites.
Visit her website at www.kfzuzulo.com.
Website | Twitter | Facebook | Blog | Boroughs Publishing Group | Official Tour Page
The Interview
Could you please tell us a little about your book?
The genie in THE GENIE IGNITES is Zubis. He's been cursed for 3,000 years and is waiting for someone to make the final wish and free him. Problem is, nobody wants to free the genie. Along comes Bethany O'Brien, a modern and sassy D.C. journalist who was Zubis's one-and-only in a previous incarnation. She has no memory of the great love they shared until he starts appearing to her in dreams, then embassy receptions, and ultimately in a shower in Urbino, Italy. She begins to remember what they meant to each other, that she was somehow responsible for his curse, and that she has the ability to set him free. Her journey to reclaim her memories and her love pit her against a secret society, three governments, and a nefarious genie who wants to kill her. Zubis, meanwhile, will risk his life to keep her safe.
Who is your biggest supporter?
My husband Martin is absolutely my biggest cheerleader, fan, and inspiration. When I'm on deadline and have to work over the weekend, he'll take the kids out for a while. He keeps me supplied with clay oil lamps…just in case there's a genie lurking in one somewhere. His love and support are is so ardent that it's been a model for the devotion that Zubis has for Bethany.
What are you currently working on?
I'm writing the next installment of the Zubis Chronicles. Bethany's and Zubis's love story isn't over yet.
Do you have any advice for writers or readers?
Read across genres. That's advice for readers and writers. Readers probably have a favorite genre but if you venture away from a type, you might be pleasantly surprised. Even writers write in different genres. As for writers, reading will make your own writing better. Not that you want to imitate the styles of other writers. The variety of voices and styles can only inform a writer about what their own style is. And to be a good writer, you need to be clear about what your voice is and to be comfortable with it.
What are some of your long term goals?
To keep on writing. And to have a readership who anxiously awaits my next novel; I will provide it.
What do you feel has been your greatest achievement as an author?
Writing my first book and then having it recognized as a winner in the Indie Book Awards. It was such a great feeling, first of all, to complete a full-length novel. But then to have an organization point to it as worthy of recognition was very satisfying. That first novel was self-published and became the platform for my later signing with other publishers.
What do you feel sets this book apart from others in the same genre?
Well, it's a paranormal romance, but I think it's still believable. That's because I feel that readers can relate to Bethany O'Brien as a real person, somebody who might even be similar to themselves. I notice that other books in this genre tend to make the female protagonist a "kick-ass" superhero type who has fantastical energy and form-fitting tailor-made catsuits, usually in leather. Not Bethany. She buys off the rack, but she always looks good. She has a sassy, down-to-earth attitude about what needs to get done. She realizes she can't take on an army or even a nefarious jinni on her own…that's where Zubis comes in. But don't get me wrong, she's a tough cookie. When put to the test, she can be as fierce as a mountain lion protecting her cubs…but wouldn't any one of us do anything to protect those we love…
Is there anything else you would like to share with us?
I'd like readers to give genies a chance. There's a wealth of fascinating information and lore about these beings. You can believe in them or not, but the details about how they were created, what they do, and how they live are intriguing. A lot has been written about genies and a lot of people around the world believe them to have substance and presence. Coming from a Western culture, I was unfamiliar with the extent of research and writings on genies. But the more I delved into this world, the more I became engrossed by the concept of them living side-by-side with humans, but on a different plane, much like angels are an accepted aspect of creation by many people. I find genies to be absolutely enthralling. I think you will, too.
About The Genie Ignites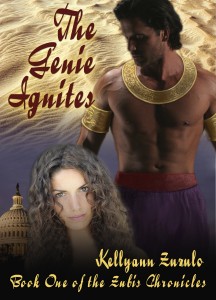 Bethany O'Brien is a 21st-century woman with a career, ambition and bills. She has no recollection of how she once felt about a nearly 4,000-year-old genie named Zubis who suddenly invades her world, but he certainly remembers her. In a previous incarnation, Bethany was an important temple priestess who apprenticed to the djinn. Zubis, powerful and alluring, is infuriatingly bemused by Bethany's skepticism. Once upon a time, he vowed to love her forever and has no plans of breaking his vow. And although the priestess she once was had been taught that a romance with a djinni must never be, Bethany gradually realizes that her love for Zubiscannot be forgotten.Along with the returning glimmers of her past life, Bethany is forced to confront a mandate from an ancient society to kill the genie of her dreams.