ABOUT RUDY A. MAZZOCHI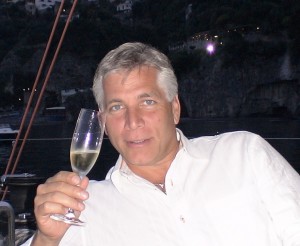 Rudy A. Mazzochi is best known as a medical device and biotechnology entrepreneur, inventor, and angel investor, with a history of starting new technology ventures throughout the U.S. and Europe. He's been privileged to have the opportunity to see the newest innovations in healthcare and work with some of the most brilliant researchers, scientists and physicians in the industry.
Authoring more than 50 patents, he has helped pioneer new companies involved in cardiology, oncology, orthopedics, neurosurgery and even embryonic stem-cell development. Through these efforts, he has become the recipient of many technology and business awards, including the Ernst & Young Entrepreneur of the Year in Healthcare and the Businessman of the Year Award.
Combining these experiences and opportunities, with thousands of hours of travel and long evenings in hotel rooms, he found the initiative to start writing a collection of medical thrillers based on true events, the first of which is entitled EQUITY of EVIL.
You can visit his website at www.rudymazzocchi.com.
Website | Blog | Twitter | Facebook | Authors Den | Twilight Times Books | YouTube | Official Tour Page
The Interview
Could you please tell us a little about your book?
EQUITY of EVIL is a novel based on true events – an unknown dark world that exists today where evil men finance and manipulate people and assets for their own personal gain. It involves the business of abortion, human trafficking, kidnapping, assassination, and the illicit black market for human organ transplants. Regardless of your moral and political views on ProLife or ProChoice, the reader will find support for their position through the characters and their actions throughout the story.
Did something specific happen to prompt you to write this book?
I think it was "saturation". I was an avid reader of novels during my extensive travel and finally realized that the reality of what I was helping develop in the medical field as "cutting-edge technology" was more fascinating (and sometimes more scary) than what I was reading about. I started writing and sharing my experiences that people couldn't believe were true… that's when I knew such a "thriller" would have some appeal to larger audiences.
Who or what is the inspiration behind this book?
Like the main character in the book, I've built a reputation for chasing hi-risk, challenging new start-up ventures that most of my colleagues in the med-tech industry wouldn't consider. Although filled with promise, they were filled with risky and unknowns… the demands too large for a small team of people with limited resources to take on. We've successfully (and painfully) pushed many of these types of new technologies over the top and eventually handed them off to large multi-billion dollar organizations to take to the global markets. It is those clinicians, researchers, scientists and engineers with whom I had worked that inspired this book.
Who is your biggest supporter?
Besides my wife, Gina, who encouraged me to start writing my first manuscript, the biggest supporters are those individuals with whom I've worked with over the years… who have seen this "story" play out multiple times. They will now be my first audience and readers of EQUITY of EVIL!
Your biggest critic?
Appropriately so…. my biggest critic has been my Literary Agent. She reminds me of the High School coach I once had who never stopped pushing me to excel… challenging me and critiquing me so that I could realize my full potential. She actually forced me to engage one of their professional editors with the contingency of their representation based on his review, edit and acceptance by a publisher. It was a "high bar" that I needed to achieve that made the book much stronger, and hopefully more successful. www.tridentmediagroup.com
What are you currently working on?
As for my day-job… I am CEO of a company that is pioneering the development of an electronic, autofocusing implantable lens for inside the eye, used to replace the patient's normal lens during cataract surgery; similar to the one used by the Terminator or the Six Million Dollar Man – depending upon your generation!
In regards to my writing, I am mid-way through the drafting of my second novel, as part of a trilogy that I'm calling "The EQUITY Series". The next novel follows a similar theme, but focuses on a technology (which also exists today) that can allow us to re-wire the brain… a process known as "neuroplasticity". Can you imagine a world in which we can eliminate fear, restore memories, create artificial desires and dislikes, or even eliminate pain?
What do you feel sets this book apart from others in the same genre?
I believe EQUITY of EVIL and the others in the future "EQUITY Series" are more than just medical thrillers. They incorporate a business theme that gives the reader insight to how these medical technologies are developed, funded and brought to market. It also includes delicate, emotional, and rather controversial topics that will challenge the readers' personal views and opinions… not to change them, but to force us to analyze them. These are brutal issues that many of us don't like to confront, i.e. the realities of abortion, human trafficking, euthanasia, and our own mortality… all provided within a storyline that is meant to be thrilling and entertaining.
ABOUT EQUITY OF EVIL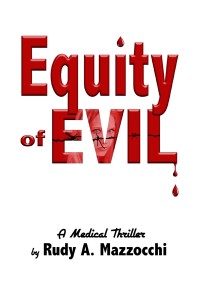 A Venture Capital Fund makes a risky investment to start a challenging new business that appears capable of reaching profitabililty with modest capital requirements. The real challenge: optimizing one of the most frequently performed surgical procedure in the World — Abortion.
Founding Partner, Roman Citrano, a successful entrepreneur turned venture capitalist, soon struggles with what he believes is his choice to establish the controversial new company. He soon realizes that he and others are but pawns on a massive, ugly chessboard being manipulated to benefit a far larger, illicit market in human organs for transplantation. Unknowingly, prime, hyper-enriched organs are spawned from the aborted fetuses and grown like hydroponic vegetables.
An unfolding world of deceit, rape, human trafficking and assassination becomes deeply personal as Roman's sole love interest secretly uses one of his new abortion services to terminate her untimely pregnancy. When she disappears, his frantic search becomes a hellish nightmare that grows worse by the hour.
Based on true events, this bold novel involves some of the world's oldest, most emotional and controversial issues. At the core of each matter is man's predisposition to control and take ownership of the human spirit for the sake of profit and person gain… such is the dark and brutal new world where life becomes the equity of evil.