About the Book
To five-year-old Jack, Room is the entire world. It is where he was born and grew up; it's where he lives with his Ma as they learn and read and eat and sleep and play. At night, his Ma shuts him safely in the wardrobe, where he is meant to be asleep when Old Nick visits.
Room is home to Jack, but to Ma, it is the prison where Old Nick has held her captive for seven years. Through determination, ingenuity, and fierce motherly love, Ma has created a life for Jack. But she knows it's not enough…not for her or for him. She devises a bold escape plan, one that relies on her young son's bravery and a lot of luck. What she does not realize is just how unprepared she is for the plan to actually work.
Told entirely in the language of the energetic, pragmatic five-year-old Jack, ROOM is a celebration of resilience and the limitless bond between parent and child, a brilliantly executed novel about what it means to journey from one world to another.
My Review
I picked up "Room" because I remembered hearing so many rave reviews and didn't think I could pass it up. I don't usually (ok, never) pay full price, but wanted to treat myself to this one because I figured it would be worth it. I should have saved my money. Let me explain. The concept of Room to me is fantastic. (SPOILER ALERT) A 5 year old boy, Jack, and his "Ma" are trapped in an 11×11 room, held captive by the man who kidnapped Ma years ago. Jack is the product of the multiple rapes that have taken place and their life is fully contained in Room. Jack knows no different and Ma tries her best to give him the most normal life she can by limiting his tv watching, making sure he does basic hygiene (as Ma's teeth have rotted), teaching lesson, music, etc…
All this was fine with me. I didn't even mind the story being told by Jack as I felt it was a nice change. The first half of the book flowed nicely and I could picture the life that these two had together in Room (even Old Nick was easy to visualize). But, the story began to lose me as Ma began to try to figure out a way to escape. This is where i felt the writing seemed pushed and not as well thought out as it previously was. And unfortunately for me, this was the beginning of the end of my love for Room.
Is is an awful book? Not at all. Do I think it deserves all the rave reviews? Not for me, but to each their own. I won't go into more details as I don't want to give away the whole story but it is a book that is bound to bring up all sorts of discussion. I would love to know, did you read "Room"? What did you think?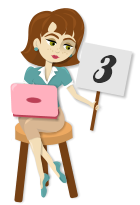 About the Author
Born in 1969, Emma Donoghue is an Irish writer who lives in Canada. Her fiction includes the bestselling Slammerkin.