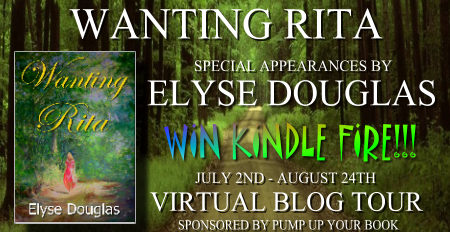 Join Elyse Douglas, the husband/wife writing team of the women's fiction novel, Wanting Rita, as they tour the blogosphere July 2 – August 24 2012 on their first virtual book tour with Pump Up Your Book! The Wanting Rita Book Publicity Tour is part of huge Kindle Fire giveaway. See details further down on how you can win one for your own!
ABOUT ELYSE DOUGLAS
Elyse Douglas is the pen name for the married writing team Elyse Parmentier and Douglas Pennington. Elyse grew up near the sea, roaming the beaches, reading and writing stories and poetry, receiving a Master's Degree in English Literature from Columbia University. She has enjoyed careers as an English teacher, an actress and a speech-language pathologist. She and her husband, Douglas Pennington, have completed three novels: The Astrologer's Daughter, Wanting Rita and a Christmas novel to be released later this year.
Douglas grew up in a family where music and astrology were second and third languages. He attended the Cincinnati College Conservatory of Music and played the piano professionally for many years. With his wife, Elyse, he has helped to pen The Astrologer's Daughter and Wanting Rita.
When asked how they write a novel together, Doug often answers, "Well… If Elyse is dismissive and quietly pacing, then I know something's not working. If I'm defensive, dramatic and defiant, then I know Elyse will soon be scowling and quietly pacing. We remind ourselves of Rita and Alan James in our novel, Wanting Rita. How the books get finished, I don't know."
Elyse Douglas live in New York City.To learn more about Elyse Douglas, go to their website: www.elysedouglas.com
To get your e-copy of Wanting Rita by Elyse Douglas at Amazon:http://amzn.to/ILDZQ4
Visit Elyse Douglas on Twitter: https://twitter.com/#/douglaselyse
Like Elyse Douglas on Facebook: https://www.facebook.com/elyse.authorsdouglas
The Interview
Could you please tell us a little about your book?
WANTING RITAis a story about Rita and Alan, the obsession of first love and the later, shattering, tender journey of an all-consuming love affair that is threatened by secrets, betrayal and loss.
Did something specific happen to prompt you to write this book? 
A night of insomnia produced some old high school and college memories and regrets.  Those helped to shape the basic plot.
Who or what is the inspiration behind this book? 
Rita was based on high school and college sweethearts. Elyse's memory of high school events helped to round out the story.
Your biggest critic?
As a husband and wife writing team, we are constantly critiquing each other and the work.  If the authentic emotion is missing Elyse points it out.  If the dialogue is flat or uninspired,Douglaswill say so.  It's a constant back and forth tennis match to get the right edge and to point the story in the right direction.
What are you currently working on? 
We are editing two Christmas books that will be released early this fall.
What are some of your long term goals? 
As Elyse Douglas, we have three books in various states of production.  We have two more ideas for novels once they are completed.  Our longest term goal is to write books that thousands of people enjoy reading.
What do you feel sets this book apart from others in the same genre? 
WANTING RITA is love story at its core, but we wanted to explore the fear and raw emotion of young love, and the confusion and heartache of mature love.  These two lovers struggle to understand themselves, their relationship and a devastating tragedy.  And, we hope, they do it with dignity and courage.
Is there anything else you would like to share with us? 
Not at the moment.  Thank you.
ABOUT WANTING RITA
When his high school sweetheart experiences a devastating tragedy, Dr. Alan Lincoln reluctantly returns to his Pennsylvania hometown to see her. It's been 15 years. Rita was a small town beauty queen—his first love whom he has never forgotten. He was a nerd from a wealthy family. Her family was poor. They formed a strong connection during their senior year, but Rita married someone else, and the marriage ended tragically.
Alan's marriage of three years is disintegrating, and he sees in Rita the chance to begin again with the true love of his life. Rita has been mentally and emotionally shattered, but she reaches out to Alan and fights to build a new life with him. During a passionate summer, however, the past and present converge and threaten their rekindled love, as Alan and Rita must struggle with old ghosts and new secrets.
Watch the Trailer
~ ~ ~ KINDLE FIRE GIVEAWAY ~ ~ ~
Pump Up Your Book and Elyse Douglas are teaming up to give you a chance to win a Kindle Fire!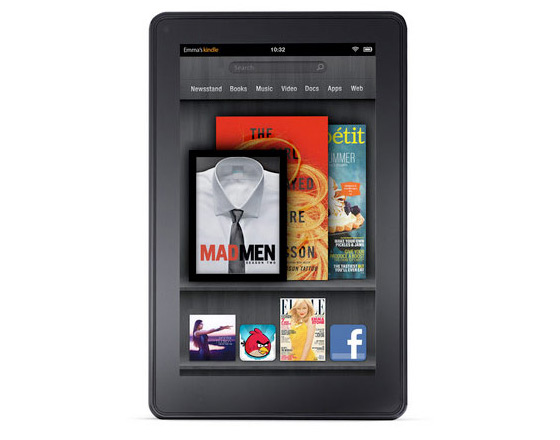 Here's how it works:
Each person will enter this giveaway by liking, following, subscribing and tweeting about this giveaway through the Rafflecopter form placed on blogs throughout the tour. If your blog isn't set up to accept the form, we offer another way for you to participate by having people comment on your blog then directing them to where they can fill out the form to gain more entries.
This Kindle Fire promotion will run from July 2 – August 24. Winner will be chosen randomly by Rafflecopter, contacted by email and announced on August 25, 2012.
Each blogger who participates in the Wanting Rita virtual book tour is eligible to enter and win.
Visit each blog stop below to gain more entries as the Rafflecopter widget will be placed on each blog for the duration of the tour.
If you would like to participate, email Dorothy at thewriterslife(at)gmail.com. Last day to sign up is July 25. What a great way to not only win this fabulous prize, but to gain followers and comments too! Good luck everyone!
ENTER TO WIN!

Wanting Rita Virtual Book Publicity Tour Schedule
Monday, July 2
Interview at Examiner
Tuesday, July 3
Interview at Blogcritics
Thursday, July 5
Interview at Review From Here
Friday, July 6
Book Featured at Book Bloggers Collaborative
Monday, July 9
Book Featured at Book Marketing Buzz
Tuesday, July 10
Interview at The Writer's Life
Wednesday, July 11
Interview at Pump Up Your Book
Thursday, July 12
Guest Blogging at Motherhoot
Friday, July 13
Guest Blogging at Literal Exposure
Monday, July 16
Interview at I Am a Reader Not a Writer
Tuesday, July 17
AuthorVid at Pump Up Your Book
Wednesday, July 18
Guest Blogging at Melissa's Eclectic Bookshelf
Thursday, July 19
Interview at Literarily Speaking
Friday, July 20
Guest Blogging at Krazy Book Lady
Monday, July 23
Interview at SheWrites
Tuesday, July 24
Interview at Between the Covers
Wednesday, July 25
Interview at As the Pages Turn
Thursday, July 26
Guest Blogging at The Paperback Pursuer
Friday, July 27
Guest Blogging at Books Books and More Books
Monday, August 6
Guest Blogging at Literarily Speaking
Tuesday, August 7
Book Review at The Solitary Bookworm
Wednesday, August 8
Interview at Examiner
Thursday, August 9
Book Review at Books Books and More Books
Friday, August 10
Guest Blogging at A Bookish Libraria
Monday, August 13
Book Feature at Celtic  Lady's Reviews
Tuesday, August 14
Book Review at Reviews by Molly
Wednesday, August 15
Guest Blogging at Night Owl Reviews
Thursday, August 16
OPEN
Friday, August 17
OPEN
Monday, August 20
Book Feature at Moonlight Lace & Mayhem
Tuesday, August 21
Book Review and Guest Blogging at Waiting on Sunday to Drown
Wednesday, August 22
Book Review and Guest Blogging at Jersey Girl Book Reviews
Thursday, August 23
Book Review at Radiant Light
Friday, August 24
Book Review at Bunny's Reviews